Stars on Ice tour celebrates Olympic Season
By: Gina Capellazzi, FigureSkatersOnline.com
Photos by Dennis DeSilva (Long Island show) and Olga Trofimova (Orlando show)
HERSHEY, PA — Bittersweet. That's how I would describe the 2022 Stars on Ice tour. As I mentioned in my 2019 review, Stars on Ice has always been special to me as my mom took me to the show on a yearly basis as a young kid growing up in the 90's. So after a two-year hiatus due to the COVID-19 pandemic, I was excited to continue that tradition by taking a mother-daughter road trip, which this year was to the "Sweetest Place on Earth" — Hershey, Pennsylvania.
Though I was thrilled for the return of Stars on Ice, I had a little sense of sadness in me as I drove to Hershey, knowing that this could be the last time I see skaters who I have had the joy of covering since early in their career. It is something that happens after every Olympic cycle. But I tried to diminish those thoughts and just focus on celebrating this Olympic season, which itself was a long season that included moments of immense joy and utter heartbreak and desperation.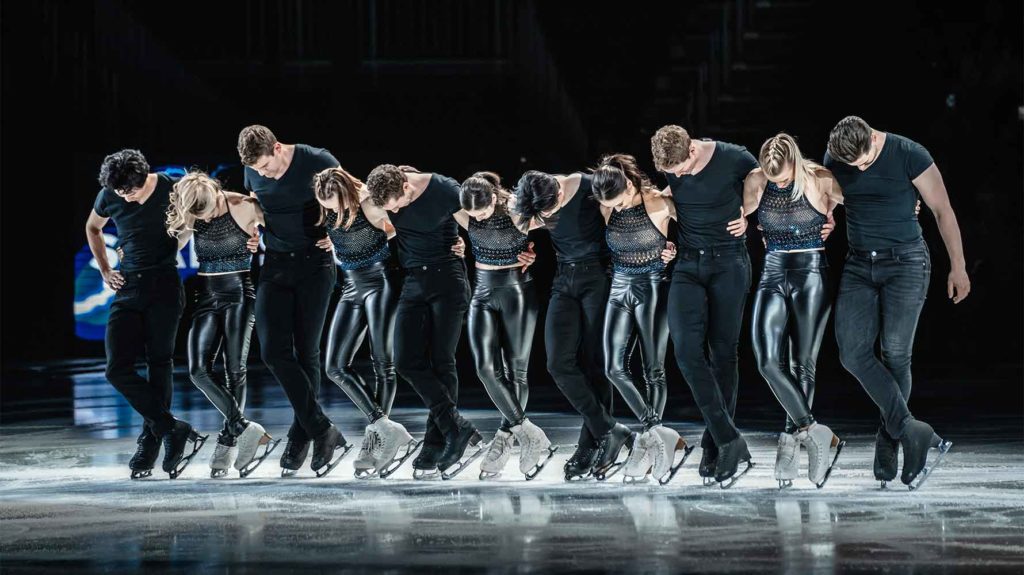 The Stars on Ice show was a celebration right from the start — after the cast was introduced by video, they kicked off the show with a rockin' performance to AC/DC's "Thunderstruck." All the group numbers were choreographed by 2006 Olympic bronze medalist Jeffrey Buttle.
Starting off the individual program numbers was 2018 Olympic team event bronze medalist Mirai Nagasu, who skated "Warriors" by 2WEI and "Nate Growing Up" by Labrinth. It has been three years since I have seen Nagasu skate – so I was glad to see her a part of this tour despite the fact that she retired from competition following the 2018 Olympic season. Her second program, which was a Beyonce medley, included a mid-program costume change where Nagasu actually left the ice to change from a black costume to light blue dress.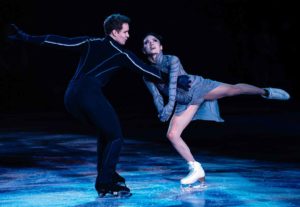 Following Nagasu was three-time World medalists and Olympic team silver medalists Madison Chock and Evan Bates, who skated to "I Hear a Symphony" by Cody Fry. This wasn't a new program for me, as I saw Madison and Evan skate this program during the gala at the 2022 U.S. Championships. However, if there is anyone who can skate this classical and lovely piece of music – it is Chock and Bates. It was a beautiful performance and a stark contrast to their rhythm dance and free dance from the season. Chock and Bates skated their alien/astronaut free dance to the music of Daft Punk as their second program. I have really enjoyed this program, just as much as I enjoyed their snake program from the 2019-2020 and 2020-2021 seasons. Since Chock and Bates plan to continue competing, I'm waiting to see what sort of characters they will portray in their next free dance.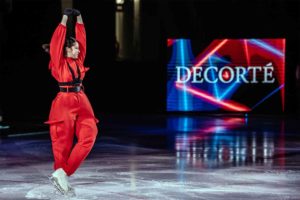 Next up was a bit of mystery at first. With the lights dimmed, a figure in a hooded red jumpsuit, which I would come to learn resembled a guard from the Netflix Korean drama "Squid Game," approached center ice. When the spotlights came up, and the skater removed the black face mask they were wearing – it was 2022 World bronze medalist and two-time U.S. Champion Alysa Liu, who skated to the KPop group STAYC's "RUN2U." The performance was just fun and you can easily see that Liu is enjoying her first tour with Stars on Ice. Liu skated to another KPop song for her second program, "Loco" by ITZY. Both were entertaining performances, but all I could think of was this could be the last time I see Liu skate. Liu announced her retirement from competitive skating while performing in the Stars on Ice Japan tour. I have watched Liu literally grow up in the sport from winning her junior title and then senior U.S. title at age 13, from her first Junior Grand Prix event in Lake Placid, to her second U.S. title, to winning her first senior international event, to making the Olympic team – all things I had the privilege of seeing in person. Then of course, her winning the bronze medal at the World championships in March was just the cherry on top of an incredible career.
Skating after Liu was two-time World bronze medalist Vincent Zhou, who skated to the song "Lonely" by Illenium & Chandler Leighton. When speaking with Zhou before the show (stay tuned for my upcoming interview), Zhou explained that Illenium is his favorite artist and that after he posted his Instagram video on his positive COVID test at the Olympics, Illenium reached out to him, extending his positive thoughts. Zhou took advantage of that line of communication and asked him for a special music cut, which Illenium obliged. So Zhou said he has a special connection to this program. In the second half, Vincent returned to the ice for his second individual program with his "Vincent" short program. This, in my opinion, is one of Vincent's best programs and it was unfortunate that he never had the opportunity to skate it at the Olympics. While as I said, I was trying to not let the sadness seep in and just embrace the celebration of this Olympic season, I couldn't, as tears streamed from my eyes watching Vincent just come alive in this program and knowing it would be the last time I would see him skate it.
Following Vincent was 2022 U.S. Champion Mariah Bell, who skated her short-lived Lady Gaga short program. I had the opportunity to see Mariah skate that program in competition at the Cranberry Cup international competition at the Skating Club of Boston in August. I wasn't too sold on the program then and appreciated it when she changed it to Korean's pianist Yiruma's "River Flows in You", which I felt better suited Mariah's skating. While I didn't like her Lady Gaga program as a competitive short program, I was glad to see Bell bring it back to perform in front of audiences during the Stars on Ice tour. Mariah chose not to skate to any of her Olympic programs for Stars on Ice, but debuted a new program in the second half that she choreographed to a violin arrangement of "Easy" by Adele. Fans might recognize the dress she was wearing, which was her short program dress from the season. It was a beautiful, well choreographed program.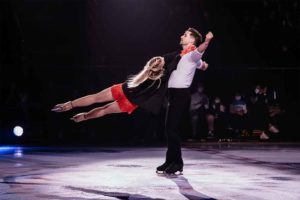 After Mariah in the first half, it was 2022 Olympic bronze medalists and silver team medalists Madison Hubbell and Zachary Donohue, who just finished their final competitive season. They performed "I Put a Spell on You", a song which skating fans have deemed a warhorse. However, fans in the arena may have not realized the significance of this program. This was the first free dance that Hubbell and Donohue skated together (2011-2012 season). They even wore the same costumes. It was very fitting as their second program in the show was the final rhythm dance of their careers – their Janet Jackson medley.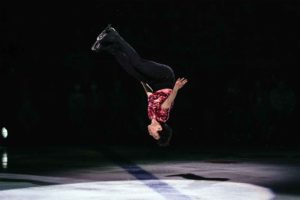 The next skater on the ice after Hubbell and Donohue was announced as the six-time U.S. Champion, three-time World champion and Olympic Champion, and it didn't take long for the crowd to figure out who it was as they erupted into cheers and screams. Nathan Chen skated a new program to "Space Song" by Beach House and with every jump, the crowd continued to cheer loudly, with the loudest screams coming when Chen did his backflip. In the second half, Chen closed out the individual programs with the program that everyone in the arena was probably waiting to see – his "Rocketman" free skate that won him Olympic gold in Beijing. Of course, the crowd went wild when Chen began his well-known upbeat step sequence, which he altered a bit to include a backflip.
Following Chen, 2022 Olympian Karen Chen skated to Katy Perry's "Dark Horse" for her first program. Unfortunately, that would be the last time the audience would see her. I noticed midway through the second act that Karen hadn't come out to skate her second program. She also did not appear in the finale with the rest of the cast. If the audience did not notice it sooner, they did when Karen's name was called and she was not there to skate in the soul train at the end. I did see on social media that Karen was unable to perform in the Boston and Long Island shows due to illness. Wishing her a speedy recovery so she can return to the tour soon.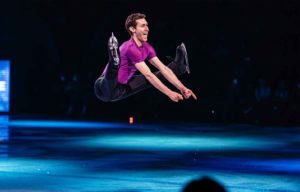 In the first half, 2022 Olympian Jason Brown skated to One Republic's "I Lived". I couldn't help noticing the lyrics to the song, especially the chorus that repeats the words "I did it all." Though Brown hasn't officially stated his intentions for the future, I was wondering if this was his way of saying that we just witnessed his last competitive season. Regardless, Brown is thoroughly enjoying performing again with Stars on Ice and it is hard not to smile while watching him. And while I refrained from reading reviews or seeing videos from the earlier shows so that it wouldn't ruin my experience, I already knew Brown's second program would would be his "Sinnerman" short program as I saw on social media that he went back home to Chicago to work with choreographer Rohene Ward on it in preparation for Stars on Ice. If there was any program I couldn't wait to see again in-person, it was Jason's "Sinnerman" program. There is no other way to describe that program other than a true masterpiece.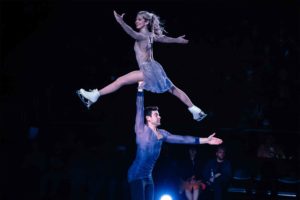 It has been eight years since the Stars on Ice U.S. tour has had a pairs team included in its tour and I was delighted that Alexa Knierim and Brandon Frazier were named to the tour even before they won the U.S.'s first world title in pairs since Tai Babilonia and Randy Gardner in 1979. Alexa and Brandon skated an abbreviation version of their "Fix You" free skate. Their second program was to "Tore My Heart" by Oona Garthwaite. The crowd loved Knierim and Frazier's pair elements, especially their gorgeous lifts in both programs.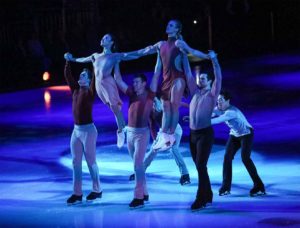 In addition to the opening group number, there were three other group numbers.The one to close out the first act was to a medley of songs by the Weeknd. It was a fun way to close out the first act. Following the intermission, the second half opened with a group number to "What a Wonderful World." It was a completely different style group number compared to the one that closed out the first act. The program was absolutely breathtaking. The highlight for me was when Bates, Frazier and Donohue lifted both Chock and Hubbell in a vertical position with Nathan Chen and Zhou grabbing their feet to make them go horizontal so they could skate under them.
Then if the audience didn't get enough of Elton John with Chen's "Rocketman," for the finale, the cast came out donning costumes that mimic the many iconic looks of the English singer-songwriter. All I have to say is that costume designer Mathieu Caron nailed the costumes. The program was full of entertaining moments during the segments "Saturday" and "I'm Still Standing", but I did get a little teary eyed again when the full cast joined Vincent in "Don't Let the Sun Go Down on Me."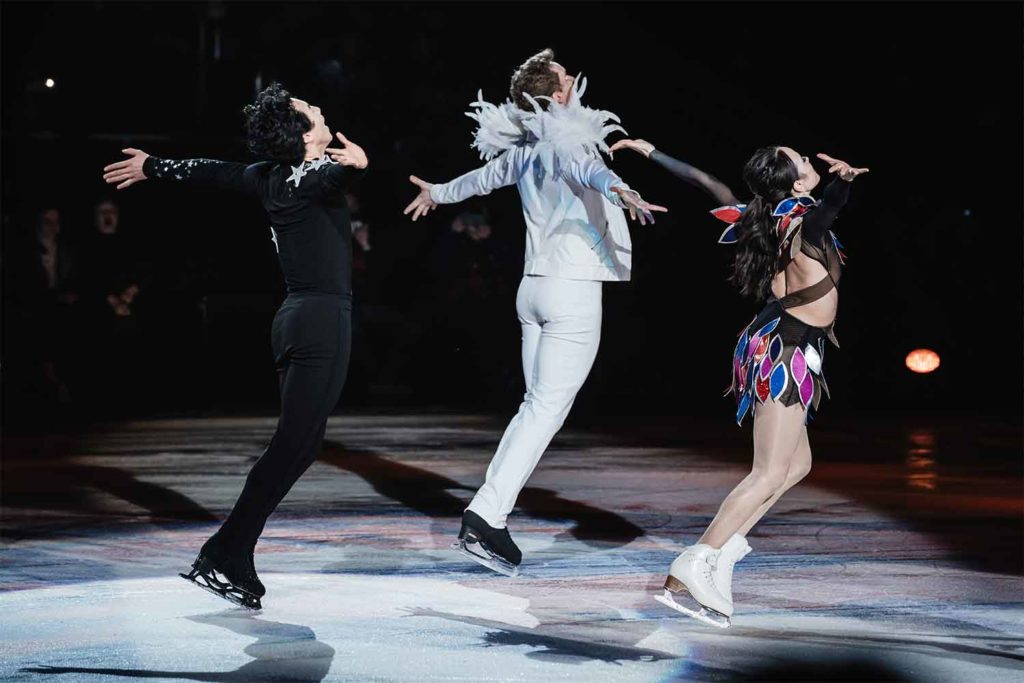 So if you have the opportunity to see one of the remaining Stars on Ice shows, please do! It is a great opportunity to see your favorite Olympic programs in-person, as well as see your favorite skaters for what could possibly be the last time.